TREATMENTS
FOR BODY & MIND
Your health and well-being have the highest priority for us
Our priority is to "pamper our customers" - by offering them new dimensions of spa pleasures. The combination of luxurious surroundings, the cozy ambience of the Alpenresort Schwarz, our extensive spa and the resort-affiliated private clinic of Dr. Öhler, is a unique concept and offers you medical care in a relaxing holiday atmosphere.

Your health and well-being have the highest priority for us. Thanks to our team of 30 therapists and our concept of overall consultation we can adapt to your requirements and will be on hand to help during your stay. In our spacious spa area we will be able to pamper you with the exclusive certified organic range of natural cosmetics, ME SENSE.
 JETPEEL Treatment
As natural as air and water.
An effective skin treatment deep below the skin surface, painless and needle-free.
Contact us: spa@schwarz.at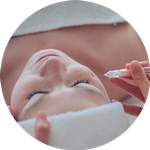 (11)
For my face
(21)
For my body care
(6)
SPA baths and packs
(4)
For my figure
(7)
Classical massages
(25)
Balance Alpine
(3)
SPA programmes
(3)
ME SENSE
Natural cosmetics
Take care of your life
The development of your personal ressources occurs in those 3 spheres of activity called nutrition, movement and relaxation. They are meshing together in many sectors and build the base of the ME-programme. By improving those 3 sectors of your life we would like to help you to gain a healthier lifestyle.
ME SENSE products offer much more than a visibly smoother and radiant skin. They act in depth. From the development of this range, priority has been given to a lasting effect without using synthetic materials or chemical preservatives. This is what the ME SENSE range - natural cosmetics certified organic - promises you. These products, which are kept naturally, contain a complex of mineral elements growing on the Mieming Plateau. They are carefully selected and prepared, which makes them exclusive and unique.